Guided placement tools support Equitable Placement and Completion by helping students without a U.S. high school GPA determine which courses they will need to pass transfer-level math or English within the first year of enrollment, with the exception of ESL students, who have a three-year timeframe. Guided placement should only be used for students who do not have transcript information available, are not able to report their transcript information because they did not attend a U.S. high school, or cannot remember their high school information.
A Model Guided Placement Process
Start Here
This slideshow presents the elements of an online guided placement process. It can be used as a template or guideline for colleges creating or refining their own processes.
Carefully consider which students are directed to guided placement systems. This will be one of the first experiences they have with the California Community Colleges. The process should be simple and clear.
Processes requiring students to meet with counselors for placement may create an unnecessary obstacle and exit point. This challenges equity goals by disproportionately affecting both lower income students and students of color.
This mock-up is a generalized template. Colleges should incorporate its elements using their own branding and aesthetic guidelines.
This template may not be appropriate for ESL placement. An ESL specific template will be provided when the placement process is finalized.
Basic Information
Begin the process by collecting basic information. Provide clear instructions on how the student can find their college student ID number. New or returning students may not have this information handy. If they are asked to enter information that they do not have, or do not have easy access to, they may not continue with the process.
Keep the process quick and easy. Students increasingly use and rely on mobile devices for accessing online services. Be sure your process is mobile friendly and consider integrating this process into an existing app or even creating one specifically for this purpose.
High School Status
All students, regardless of high school status, have the right, opportunity and ability to succeed in transfer-level courses. This is a chance to reinforce students' abilities and their capacity to succeed.
These questions also offer an opportunity to integrate retroactive placement processes.
For example, students answering, "Yes, but it has been 10 years or more since I graduated," could be redirected to questions for retroactive placement. While creating this may not be possible for all colleges, it remains a useful consideration.
Year and GPA
While seemingly straightforward, the way in which prompts are worded and ordered may create or reflect implicit biases. These biases have a greater impact on historically underrepresented students, creating an impediment to equity.
For instance, if the first question posed here simply asked for a high school GPA, it would mark out and exclude students who did not graduate. Worse, it could create confusion for students without GPAs, presenting a barrier to the process and subsequently preventing that student from finishing and matriculating.
Math
Even if they are not used for evaluation or placement, sample math problems and placement tests require Chancellor's Office approval within one year. If they are used, they should be carefully worded to avoid discouraging students.
English
Even if they are not used for evaluation or placement, sample assignments and placement tests require Chancellor's Office approval within one year. If they are used, they should be carefully worded to avoid discouraging students.
Confirmation
Confirmation pages reiterate student information. Provide a simple mechanism for making changes or corrections.
Placement
Most placements can be made immediately. For students who need further assessment or to meet with a counselor, placement should occur as soon as possible.
Student who disagree with their placement should be clearly directed to contact the assessment office so they can resolve their placement and begin their education without undue delay.
New placements must be updated in the college's Student Information System (SIS). Manual entry of placement results can be much slower than automated results.
Students assigned to a corequisite course that might be replaced by or made equivalent to another should be notified as soon as possible.
Next Steps
Consider including a question upon course enrollment asking students to identify which factors affected their choice. Using fixed responses and allowing students to check all that apply can help colleges understand what guides student choice.
Consider how well you are set up for continuous self-improvement. Collect data on the courses students choose to take after completing the Guided Placement process and student success in those courses.
Analyzing this data can help you understand how well your placement processes are working to support student success. Your research department can be a valuable resource for collecting and interpreting these data.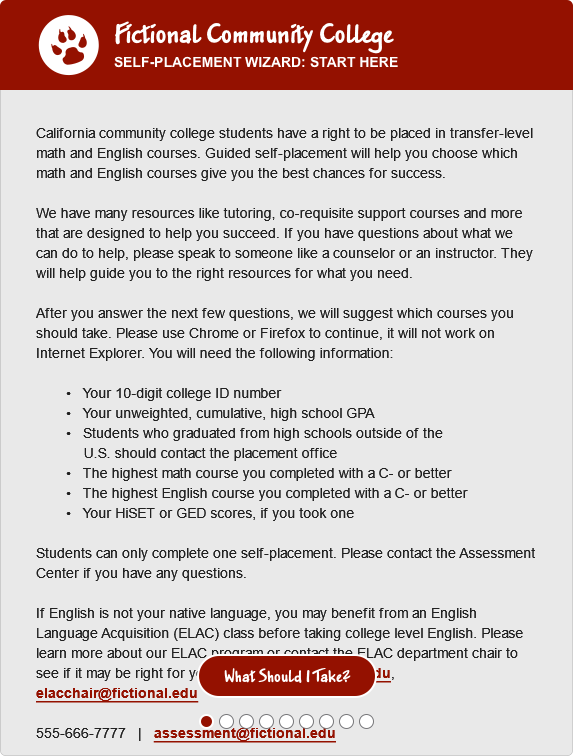 The term Placement Wizard is based on common student experiences with contemporary interactive media.
Resources that help students succeed should be forwarded and mentioned as often as possible throughout.
Follow the example Guided Placement process to continue.
Language should be kept succinct, conversational and clear. Language that is seen as overly and needlessly 'academic' may affect how students see the college as well as their belonging in the institution.
The Basic Information page should ask for the student's name, college ID number, birthday and email. Where necessary, such as when there are multiple colleges in a district, it should also include the college name.
The high school status page should ask whether a student graduated from a high school in the United States.
High school status questions can affect how students see their place in the system. Questions or prompts that suggest a failure on their part can affect their perceptions of the system and their selves, including their fit. For instance, the terms "yes" and "no" have been not been included here. The effective meaning of each response remains the same using positive and encouraging language.
It should also include a field for HiSET and GED scores for students who passed either of those exams to earn equivalency.
This question should be displayed if a student selects "Not confident" for the previous question. It can be hidden otherwise.
The confirmation page should present all of the student's answers from the process. It should also offer them the opportunity to edit any answers that may be incorrect.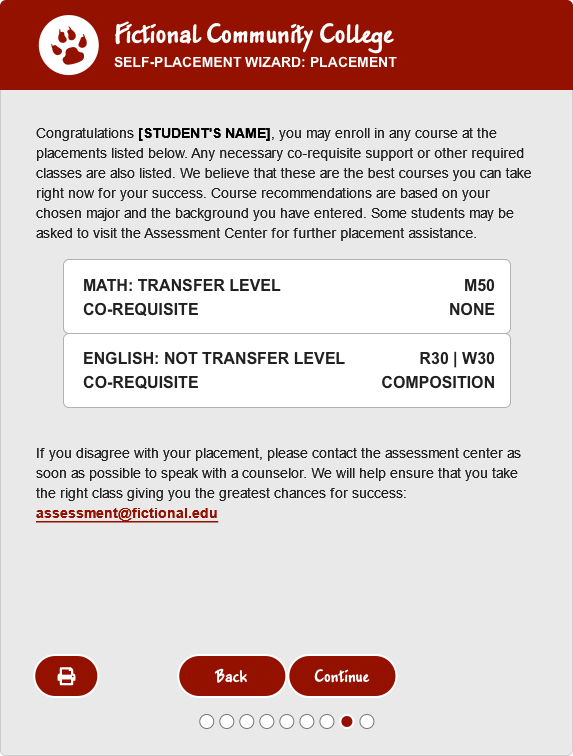 Placement pages should indicate Math and English placements as well as any necessary co-requisite supports. Whether courses are transfer-level or not should be made clear to students, both here and in the catalog when they explore their course options.
Beyond the placement itself, co-requisite support opportunities should be clearly identified and explained. Students who only see their placement while missing any required or suggested co-requisite courses may not be maximizing their chances for success. They may also be failing to take required classes that are not listed elsewhere, causing greater long-term problems and delays for their graduation and transfer.
Students who disagree with their placement can be given an immediate course of action while reinforcing their capacity to succeed and the college's commitment to their success.
Next Steps pages direct students down their future paths. Students should be asked to keep a look out for a confirmation email and asked to see a counselor to help them achieve their goals.
Counselors should be cognizant of how they communicate students' rights to access transfer-level courses as well as any support resources available at the college. They should also be aware of their role in preventing under-placement, relieving student fear and uncertainty, and guarding against unintentional messaging that discourages students, especially historically underrepresented students, from enrolling in transfer-level coursework.
Guided Placement Resources
Guided placement is crucial to implementing AB 705. The model presented here is an example designed to demonstrate one possible online process while providing reasoning for the promising practices within.
Practical considerations that can inform the development of your own process are outlined in a PDF document. Feel free to share it with colleagues or college committees developing their processes.
The Academic Senate for California Community Colleges has developed a resource about guided placement built in a Canvas shell.
ESL data and practices are currently being collected and curated. Check back regularly, as this information will be included in a forthcoming update of this Toolkit.
Feedback